Here at TPW™, we're relentless in our pursuit of ensuring our customers receive an exceptional experience and are in the best possible shape to achieve their fitness goals. Everyone at TPW™ Towers is passionate about what we do and committed to being the best for you. In little over 12 months, we've become the highest rated sports nutrition brand on the independent review site TrustPilot, and the brand of choice for anyone who knows their sports nutrition. So we guess we're doing ok.
The TPW™ community of over 150,000 tell us what they think 24/7, 365. We always listen, and when we can make things happen, we do. As we get stuck into March, we thought it would be a good time to share with you some key changes and improvements we've been making in response to community feedback....

1. PRICE CRASH! OVER 100 PRICES REDUCED!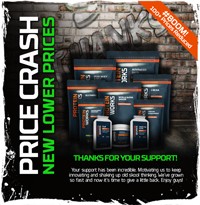 Your support has been incredible. Motivating us to keep innovating and shaking up old skool thinking. We've grown so fast in such a short space of time. We've re-invested everything back into TPW™ to make things even better for you guys. Although inflationary pressures continue to push up raw ingredient costs, we always promised we'd do everything we could to not increase prices. As you know, we like to do things differently, so we've bucked the market once again and cut over 100 prices to make your hard earned cash go further. These aren't short term cuts, but price reductions across some of our best-selling products such as PROTEIN BLEND V5, Creatine Monohydrate and Muscle Super Greens, to name but a few. We'll keep chipping away at prices to deliver you even better value for money.
Each Price Crash product has the icon (below right) on its product page so they are easily identifiable to you. Rest assured, we won't stop here. We'll relentlessly continue to work hard to deliver you even better value for money.
We will continue to do everything we can to offer you even better value for money, with one key assurance. We will never compromise on the quality of our products or the service you receive. We guarantee you the finest quality sports nutrition products and we will never cut corners or use inferior ingredients just to claim we are the cheapest. We know from personal experience that cheap doesn't deliver results.

2. NEW COURIER SERVICE
As we've said since day one, our single biggest means for improving our service is YOU. We've received a number of negative comments from the community against one of our courier partners over the past few months and so we've decided to take action.
As a result, we have decided to introduce UK MAIL. We have invested in UK MAIL to ensure every customer receives the same high level of service that we ourselves would expect to receive. UK MAIL brings to the party a number of key benefits, including:
UK's largest independent parcel carrier with over 40 years experience
SMS and email delivery notification with one hour time slot (due April '14)
Leave with a neighbour or safe place capability (via courier website)
User friendly website gives you the power to amend & add delivery details
Non-automated Customer Service line available 7am 'til 7pm
We hope you like this, but as always, let us know what you think.

3. NEW LATER 5PM "NEXT DAY DELIVERY" CUT OFF
From today, you have an extra hour to get your order in and still receive same day despatch! Recent investments allow us to now offer a 5pm cut off, replacing the previous 4pm cut off. So if you are running low on your TPW™ supps and in need of an emergency delivery, fear not, get your order in still receive the same day despatch!
It's just another little thing that we believe makes your lives easier.

4. £10 REFERRALS IN MARCH
£10 REFERRALS ARE BACK! As our way of helping you spread the TPW™ LOVE to more people this month, we've SUPERCHARGED our REFER-A-FRIEND programme once again for a whole month of referral madness! It's time we let a few more people get the chance to try extraordinary TPW™ sports nutrition.
We always prefer to reward our customers for spreading the TPW™ word than big corporate advertisers or marketing agencies. Sign up your mates and rack up the reward points to ensure March can be your month to kick on your 2014 training. So make yourself popular down the gym, in the club and at work or uni by passing on your referral code and letting everyone how you get some FREE PROTEIN on us - and watch those TPW™ bad boy points rack up!

5. WE WANT YOU!!!
As we continue to grow, we have a number of opportunities for exceptional individuals to join the young team at TPW™ Towers. We're not interested in flashy recruitment agencies or expensive job ads, instead we believe the richest talent lies in the TPW™ Community. So if you think you are a bit special, whatever your area of expertise, if you possess an insane work ethic and a passion for what we do, then we want to hear from you.
Email your CV to us at: careers@theproteinworks.com
We will keep your details on file and if a suitable role comes up, we'll be in touch to meet up and find out what you're all about. #KeepItInTheFamily