10% OFF

NEW RECRUITS

The last 30 days has seen some pretty exceptional new releases at TPW™ Towers. This latest crop is ideal for anyone looking kick there December training into top gear, so if you haven't tried the new arrivals yet, you need to! And this weekend only, we're slashing 10% OFF the lot to sweeten the deal even more.
NAKED PROTEIN POPCORN
Naked Protein Popcorn™ is a little bit different to say the least. Alongside the high performance bespoke formulas we create for elite teams and athletes, we like to have fun with some of our favourite foods and snacks. This time we've taken classic popcorn and given these nutritional gold nuggets the TPW™ treatment! Harnessing TPW™ breakthrough protein fusion technology, Naked Protein Popcorn™ is made with premium grade Whey Protein Isolate, Organic Popcorn, Organic Coconut Oil and Stevia Extract to create the ideal snack to boost your protein intake when the munchies strike.
ALL DAY PROTEIN
All Day Protein is a multi-timed release protein designed to drip feed an effective supply of nutrients to the muscles over a sustained period of time. With 47g of protein per serving, it is the ideal protein shake for anyone looking to achieve growth in muscle mass. Ultra pure Hydrolysed Whey Protein delivers a fast release of nutrients, followed by Whey Protein Isolate and Whey Protein Concentrate. Finally, Micellar Casein provides a slow release of amino acids to the muscles. The result is a great tasting protein shake to keep you fuelled through the day.
THE BIG Z™
The Big Z™ is a great tasting, high protein hot chocolate malted drink. It is the ideal bedtime drink, packed full of nutrients sourced from premium grade Micellar Casein and Whey Protein Concentrate. In addition, it contains our own night-time amino acid blend specifically designed for The Big Z™. Nutritionally designed to fit all diets, one mug of The Big Z™ is low in fat and contains over 23g of slow-absorbing protein per serving. It has also been fortified with heavily-researched aminos like L-Ornithine, L-Glycine and L-Theanine, to name only a few.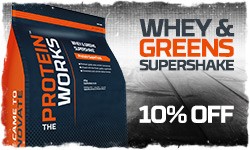 WHEY & GREENS SUPERSHAKE
Whey & Greens Supershake™ combines premium grade whey protein concentrate with an impressive blend of superfoods to create a potent protein supershake. High in protein and nutrient dense, this unique hybrid shake offers the ultimate in convenience and high quality formulation in a single protein shake. The superfoods contained in Whey & Greens Supershake™ include wheatgrass, spirulina, green tea, broccoli powder, alfalfa and chlorella. This makes it an excellent source of vitamins, minerals, antioxidants, polyphenols, enzymes, co-factors, adaptogens & trace elements.
NITRO BLAST SHOTS
Nitro Blast Shots™ is an innovative preworkout system that is digested directly in the mouth. Its scientifically driven nitro blend formula is ideal to consume 30 minutes before your workout to help get the most from your session. Its unique delivery system gives a popping and fizzing sensation like no other preworkout on the market today. Each shot comes in its own tube for convenience and the nitro blend formula contains 1000mg of D-Aspartic Acid, Beta Alanine & L-Arginine AKG and 500mg of Agmatine, amongst other active ingredients.
SUPER REDS
Super Reds is a unique fruit blend superfood shake, packed with 13 nutrient-dense superfruits. Harnessing the power of nature, Super Reds is a scientifically driven formula infused with TPW™ natural flavours to create a great tasting, healthy shake to consume any time of day. Although we recommend Super Reds be taken on its own, it can also be just as easily added to any other protein or carbohydrate shake to dramatically increase the vitamin and mineral content. Essentially, it's a nutritionally versatile fruit drink that's been designed to improve the quality of any diet.
The Small Print
Offer available until midnight Sunday 30th November 2014, or whilst stocks last. Cannot be used in conjunction with any other offers, including Payday Steals. Unfortunately, we need to make some profit to pay the bills!
Be sure to regularly check out the New Arrivals section on our site for all the latest products to come out of the TPW™ Lab. Plus as always, don't forget if you have have a product idea or request then please get in touch through our unique New Product Request feature. If your idea is used then you could earn 5,000 loyalty points to spend however you want!