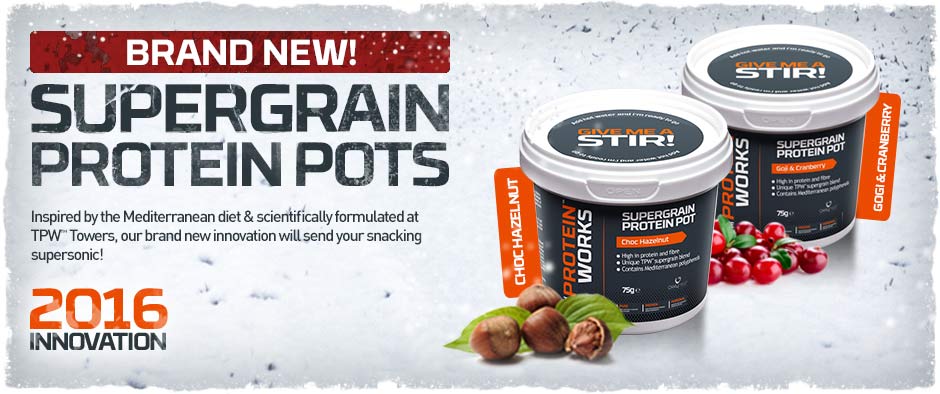 INNOVATION

ALERT!

Here at TPW™, we are insanely passionate about what we do. As the most prolific innovators in sports nutrition today, we're driven to challenge old skool thinking and archaic product formulations. From our acclaimed natural flavours to the UK's first all-natural whey protein flapjack - so far we think we've done ok, but we're just warming up!

And 2016 will be no exception as the innovations hit TPW™ Towers. With around 100 new products ready to drop in the new year – 2016 is shaping up to be our best year yet. So fasten your seatbelt and get ready for a whole heap of sports nutrition innovations that shake up the industry and blow your socks off.

So without further ado, let's meet the first of the bunch – and it's a little beauty. Introducing the nutritional powerhouse, SUPERGRAIN PROTEIN POTS…
---
BRAND NEW
SUPERGRAIN PROTEIN POTS!
Our latest innovation is a one-of-a-kind, supercharged spin on morning oats. Supplying you with the same antioxidant protection as 5 fruits and vegetables, this epic pot of nutritional awesomeness is a complete no-brainer...
TPW™ Supergrain Protein Pots are a next generation breakfast, high in protein and packed full of oats, nuts, berries and seeds. Now available in two delicious flavours, Goji & Cranberry and Choc Hazelnut, Supergrain Protein Pots are the perfect TPW™ creation to kick start a year of EPIC innovations.
CHOC HAZELNUT
" A classic blend of smooth milk chocolate and crunchy hazelnuts create a warm, hearty breakfast flavour to satisfy any sweet tooth."
GOJI & CRANBERRY
"A totally delicious mixture of sweet superfruits. The tangy berry flavour combines perfectly with warm oats and grains, leaving a soft fruity undertone, a true taste sensation"