PAYDAY STEALS | SAVE UP TO 25%
PAYDAY STEALS is our way of making your hard earned cash go further. We not only launch the most innovative products on the market, we also help set you up for the month ahead with the most killer sports nutrition steals anywhere! This time we've torn up the rule book, locked the accountants in the broom cupboard and stoked up the discounts to unheard of levels. March is a key month when it comes to stepping up your training and we're not messing about!
For the first time ever, save up to a mammoth 25% across over 200 TPW™ products! You've probably worked out by now it's called PAYDAY STEALS for a reason! Until midnight Sunday 9th March, the most innovative range in sports nutrition is yours for the taking. Spend more and save more. It's that simple.
SPEND £40+
Save 10% when you spend £40! An example order to release this discount could be 2kg of DIET WHEY COMPLEX, plus 500g of our performance enhancing RAZE™ PREWORKOUT. Then use the code 'SAVE10' at checkout to instantly save a cheeky 10%!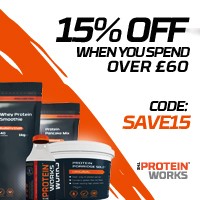 SPEND £60+
Save 15% by spending over £60. For example, our ground-breaking, PepForm® engineered ALL IN ONE PROTEIN THE WORKS™, then CLA SOFTGELS 240s for fat loss, and finally FLAVOURED GLUTAMINE 1kg. Then just enter the code 'SAVE15' at checkout to save 15%!
SPEND £80+
Save 18% when you spend over £80! Why not try our great tasting TPW™ PROTEIN COOKIES, DIET WHEY ISOLATE 97, PROTEIN PANCAKE MIX with our new DARK CHOC HAZELNUT BUTTER for breakfast. Enter 'SAVE18' at checkout to save a massive 18%!
SPEND £100+
Save 20% by spending £100! How about 4kg of our premium weight gainer formula TOTAL MASS MATRIX, 2kg of RECOVERY PROTEIN and 500g of the intra workout formula i-SURGE. Use code 'SAVE20' at checkout to save 20%. Includes FREE NEXT DAY UK DELIVERY!
SPEND £150+
Save 25% (our biggest ever Payday discount!) by spending £150! 4kg of the 100% natural NAKED WHEY PROTEIN 80, 1kg of the nutrient dense SUPER GREENS and 270 caps of ZMA® formula unlocks a huge 25% off with the code 'SAVE25'. Plus FREE NEXT DAY UK DELIVERY!
How It Works
As always, PAYDAY STEALS is pretty straight forward, simply follow the below 3 steps:
Add enough to your basket to hit a PAYDAY price point of either £40, £60, £80, £100 or £150
Enter the appropriate discount code as shown above at checkout
Cash in on some massive savings, sit back and wait for your goodies to arrive!
The Small Print
Free delivery is for UK Mainland orders only. As always, this offer excludes Create Your Own, Whey Protein 80 and 90 (4kg SUPERSAVER sizes) and cannot be used in conjunction with any other offers, including Pack Deals. Unfortunately, we need to make some profit to stay in business! Offer ends midnight Sunday 9th March 2014, or while promo stocks last, whichever is sooner.