STRETCH 'N' SAVE AT TPW™!
Right now at THE PROTEIN WORKS™ and exclusive to Muscle Hack customers you can get up to 15% OFF EVERYTHING ON SITE, but hurry the offer ends midnight 16th August 2013. Whatever your training routine or whatever you're nutritional needs we guarantee we have something to meet your needs. So if you're new to TPW™ (welcome) take a peek below at how Stretch N Save works. But if you're a regular just grab your code and get your supplement cupboard re-stocked.
How It Works
It's pretty straight forward guys, simply follow the below 3 steps:
Add enough to your basket to hit a Stretch 'N' Save price level of either £50, £75 or £100 (or use the 'TPW5' for 5% discount on everything.)
Enter the correct discount code as shown below at checkout
Make some massive savings and wait for us to ship it out!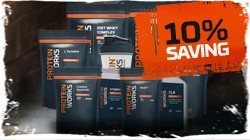 SPEND £50+ |
SAVE 10%!
Save 10% by spending as little as £50! To give you an example, if you were to order 2kg of DIET WHEY COMPLEX in any one of our innovative flavours and 500g of our performance enhancing RAZE™ PREWORKOUT and then use the code 'TPW10' at checkout, you'll instantly save 10% on TPW™ order.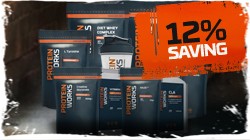 SPEND £75+ |
SAVE 12%!
Save 12% with us by spending over £75. If you wanted to have a high protein, great tasting snack in your gym bag, you could order TPW™ PROTEIN COOKIES, then PROTEIN PANCAKE MIX for your breakfast, WHEY & OAT CRISP to keep on your desk at work to stave off hunger and PEANUT BUTTER as a tasty snack any time of day or night. Then just enter the code 'TPW12' at checkout to save 12% on your order.
SPEND £100+ |
SAVE 15%!
Save an incredible 15% when you spend over £100! If you were looking to increase muscle mass, strength and power, you could order 4kg of our best-selling weight gainer formula TOTAL MASS MATRIX, 2kg of RECOVERY PROTEIN and 500g of the intra workout formula i-SURGE and then enter 'TPW15' at checkout to save a massive 15%!
Important Offer Information
Please Note: This offer excludes Create Your Own, Whey Protein 80 and Whey Protein 90 4kg & 6kg supersaver sizes and cannot be used in conjunction with any other offers, including Pack Deals. Unfortunately we need to make some profit to stay in business! Offer ends midnight 16th August 2013, or until promo stocks are gone, whichever is sooner.