Personal Sports Nutrition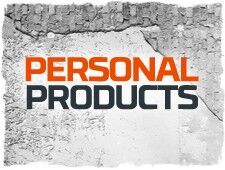 We have never prescribed to the mantra when it comes to sports nutrition, that one size fits all. We are very much in the camp that everyone is different and simply offering a stock product for everyone whether you have a leaner body shape (ectomorph) or a larger body shape (endomorph) isn't the way to go.
Wherever possible, we try to offer products and innovative features that allow you to customise your nutrition to your own body type and own personal goals. Below you will find more information on some of the ways we make TPW™ sports nutrition personalised to you.
Create Your Own Formula
Probably our most popular and unique innovation is the Create Your Own formula feature which allows you to design and build a formula exclusively for your own personal needs. There's a wide range of ingredients to choose from and we are adding more all the time. There are so many combinations that it really will be a one-off. We even go that little bit further by letting you choose a name for it and we'll put your chosen formula name on the label.
With our sharing feature, you can share your formula with friends via email and social sites like Facebook and Twitter, meaning you can tell the world if you have just created a new, ground-breaking formula. If we find a formula gets really popular, then we'll look to put it on our website and into production so everyone can benefit from it.
There's nothing quite like it on the market. Our ability to formulate and produce in-house makes this incredible feature possible. We have to charge a slightly higher price for this service but the final price is still way below retail brands and you have a sports nutrition formula that has been designed and produced by you and specifically for you. When it comes to personal nutrition, it doesn't get any better than this.
Create Your Own formula right now.
Single-Source Ingredients
Our extensive range of sports nutrition products include a vast array of single-source ingredients. So if you want to experiment with formulation even further, you can buy the individual ingredients such as whey protein powder, creatine, amino acids, carbohydrates and much more, and formulate away! If you prefer to steer away from formulated blends and like your nutrition 100% pure, our ingredients range allows you to simply buy single-source powders. Either way, it's all set up for you to personalise your nutrition.
New Product Request Feature
We know the TPW™ community is full of people with great ideas and suggestions on sports supplementation, so we created our New Product Request feature. With this service, you have a direct line into our New Product Development team and the opportunity to request a new ingredient, a new flavour or new formula. The team will assess your proposal and if it makes it passed their initial assessment, we will include it into our New Product Development programme. After a period of sourcing ingredients, formulation and testing, if it passes the high quality checks we put in place for all TPW™ products, then you could see one of your ideas be launched as an official TPW™ product.
For each new product suggestion that gets launched, we'll credit your account with 5,000 loyalty points as our way of saying thank you. In addition, we'll send you free of charge a full size sample of the final product you had a hand in creating.
Submit a New Product Request right now.
Multiple Protein Sizes
With less money in peoples' pockets and VAT now applied to sports nutrition products, it's become harder and harder to buy the big sizes when it comes to whey proteins powders. We wanted to make sure that no matter how much money you had in your pocket at any given time of the month, we had a whey protein size option to fit your budget. So on our whey protein concentrate and whey protein isolate products you can choose from just 500g upwards.
No longer are you restricted to having to purchase one of only 2-3 sizes that a brand has on sale. With TPW™, you can choose the size that works for you, whether that's 1kg, 2kg, 3kg and so on. Just another example of how we try to make life easier and help sports nutrition be personal to you.
We Help You Achieve Your Goal
We have grown tired over the years of trying out a sports nutrition brand and then getting hit with all kinds of inappropriate emails about everything from free samples to discounts off products. There's nothing personal about having a focused goal to lose weight and getting an email from your chosen brand offering you money off a weight gainer!
At TPW™, we ask you when you register what is your chosen goal and then ensure any marketing emails you receive from us is focused on products that help you achieve your goal. Even better than this, if you change your goal at any point, simply log in to your TPW™ account and change your goal in MyAccount. We'll then update our records to ensure we are on the same page and fully behind helping you achieve your new goal.