Filter Protein Bars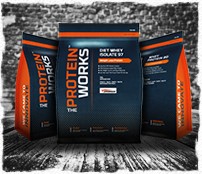 Why Are Your Protein Bars Voted The Best?
Protein bar technology had remained relatively unchanged for years. Many protein bars proving to be a workout for your jaw as much as anything else. But this all changed once the TPW™ Development Team made it their mission to make Europe's first bar made from whey isolate. The Whey & Oat Crisp was born and broke all sales records in the protein bar sector. High in protein and a great source of low glycaemic index carbohydrates, thousands of cupboards all over the UK were stocked overnight on the day of the launch.
This then paved the way for the TPW™ Protein Bakery. A custom-built facility that allows us to dream up and manufacture a range of products that to date the industry could have only imagined. Protein Brownies, Protein Flapjacks, Protein Grazers™ and Protein Nutties™ all followed and cemented our position at the very forefront of protein bar innovation and technology. Aptly named the "Willy Wonkas of Whey" on social media the TPW™ scientists say they are only just getting started.
We often get asked, "How important are protein bars to a person's diet?" Well, after months of research with our heads firmly fixed in Protein Bar-Based Nutritional Journals we say they can play a key role if you know how to wield their power. This is because way back in 1955 nutritionists published research in the British Journal of Nutrition that showed not all protein is created equal. Different sources have different biological values (BV) which means the body will process eggs and beef in a different way to how it will process whey protein and casein powder. Which is why each snack you find in this range will be made from a variety. Since it's not just the quantity of the protein you eat, it's also the quality. This is based on research published in the The Journal of Sports Sciences that found, "A considerable amount of evidence during the past 15 years indicates that regular exercise does in fact increase protein needs."
Finally, we cannot stress the sheer potential and possibilities the TPW™ Protein Bakery represents. There is quite literally no limit to what we can, and will, produce. Therefore if you've ever had an idea for a protein bar, but found no sports nutrition brand was able to make it happen then think again. Take to social media and let us know. We love talking to customers about sports nutrition and protein bar possibilities is one of our favourite topics.
Whey & Oat Crisp Protein Flapjack bars take protein flapjack bar formulation to the next level. They are a totally unique, next generation protein flapjacks that reinvent traditional protein flapjacks into a new cutting-edge and great tasting snack.

Each Protein Grazer™ bar is high in protein to boost your protein intake and high in dietary fibre to help keep hunger at bay. Whether on your desk at work or in your kitchen cupboard at home, you might want to consider keeping your Protein Grazer™ bars safely under lock and key!

The highly anticipated launch of VEGAN CRAVERS had the fires of our renowned Protein Bakery burning brighter than ever. Challenged to make the world's best tasting Vegan Protein Bar, our crack team ate their way through hundreds of snacks & bars from around the planet. They laughed in the face of mediocrity and then did what they do best and made something completely unique. Vegan Cravers are hand crafted vegan masterpieces. Made from three plant-based proteins, natural flavours and a bit of TPW™ magic, every single square packs over 14g of protein, plus is high in fibre and low in sugar. Each indulgent flavour will have you craving for more.

Soft baked. Incredible tasting. Low in Sugar. High in protein. And it's a Brownie, not possible right? Wrong. These Protein Brownies are a true Protein Bakery legend, now re-imagined in a brand-new recipe. Devastatingly great nutritionals and so cheeky in flavour they wink at the sight of a taste-bud, they're simply our most audacious Brownies to date. Unrivalled was the word we pinned to our innovations board when we tasked our nutritionists & bakers to re-imagine our classic snack. Over 100 taste tests down, we can puff chests & ruffle feathers whilst shouting about stats like; less then a gram of sugar, over 10g of protein and officially high in fibre. If you don't know about these already, it's time you joined the club…

We call it the Truffle Shuffle… High in protein, high in fibre, low in sugar. Simply sublime.You may hear some other words muttered as a Protein Truffle is devoured… Sumptuous, incredible, unreal. We've heard them on repeat as our original Protein Truffles underwent over 100 taste tests in their full re-invention & reformulation. The outcome? Well, the Protein Truffle is now even more tasty, even more flavoursome & still packed with nutritional prowess that puts it in a league of its own. It's not just the Truffle that has upped its game, we're also buzzing about the new vessel that it will arrive to you in! It isn't an ordinary box… we like to think of it as a ring side coach, we'll say no more than that, the rest is a surprise.

The Protein Nutty™ is what happens when you combine a Nut Butter obsession with a culinary genius and a sports scientist. The Result? Well you get the ultimate tasting, energy boosting bite. Now newly re-imagined, these fresh protein bakes have passed our taste bud profiling tests and are officially tastier and more flavoursome than their legendary predecessors. Not possible, right? We didn't think so either, but our artisan bakers had other ideas. Combining tropical flavours such as goji berries and desiccated coconut with our finest Whey Protein they've created an insane flavour sensation to go with its nutritional might! Freshly baked, prepped and packed in our Protein Bakery, these are bullet proof nutritional powerhouses.