Soy Protein Isolate 90 is a 100% plant-based protein shake. It is high in protein, low in fat and has no added sugar. As all products, it comes in a range of the best tasting flavours on the planet.

Soy protein is the closest of the vegetable proteins that most resembles the amino acid profile of dairy proteins, such as milk and whey. It is therefore a very popular non-dairy alternative protein for anyone looking to reduce their dairy intake or on a dairy-free diet.

It has over 25g of protein per 30g serving, as little as 109 calories and practically zero fat. Soy Protein Isolate 90 is also very popular for anyone on a vegan or vegetarian diet.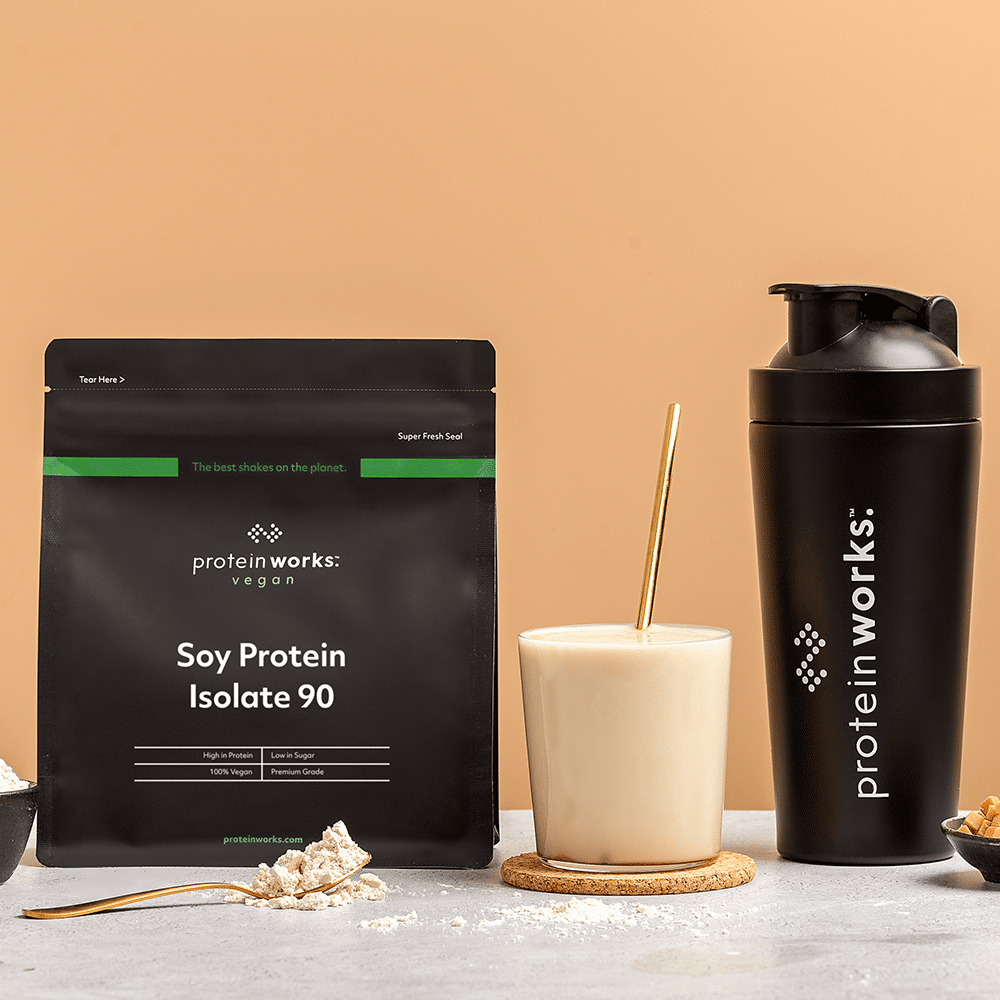 Why Buy Soy Protein 90?
100% Plant Based

Rich in Essential Amino Acids

Smooth and Creamy Texture

High in Protein, Low in Fat

Low in Calories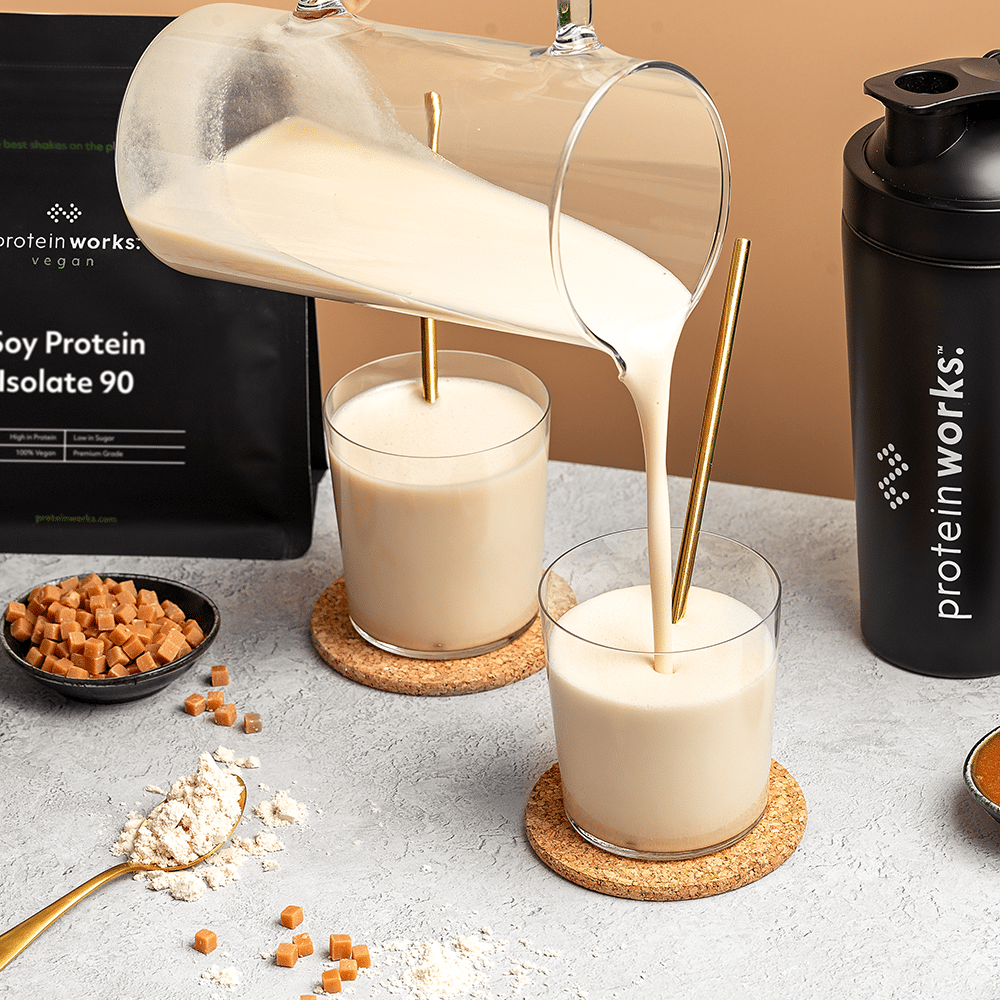 What Is Soy Protein Isolate?
Our premium Soy Protein Isolate 90 has been specifically engineered using only the finest soy beans. The beans are put through a dehulling process to extract only the finest quality protein, with very low carbohydrates, sugar, and fats.
You are guaranteed a delicious and unique range of flavour choices such as Choc Mint Brownie, Choc Peanut Cookie and Millionaires Shortbread.
Soy Protein is incredibly good for you and works well with almost any fitness routine or lifestyle. Including this 100% plant based protein powder into your diet will see an increase of vitamin levels, as well as that all-important protein. As soy protein is naturally rich in these important nutritional elements, you know with confidence that you're only putting natural food into your body.
Can You Build Muscle With Soy Protein?
Soy Protein contains a very high concentration of protein. If you're new to the sports nutrition world, this ingredient is vital for you to recover and grow muscle mass. The addition of essential amino acids helps to synthesise the protein you consume and help create a potent muscle building blend, perfect for anyone leading an active lifestyle.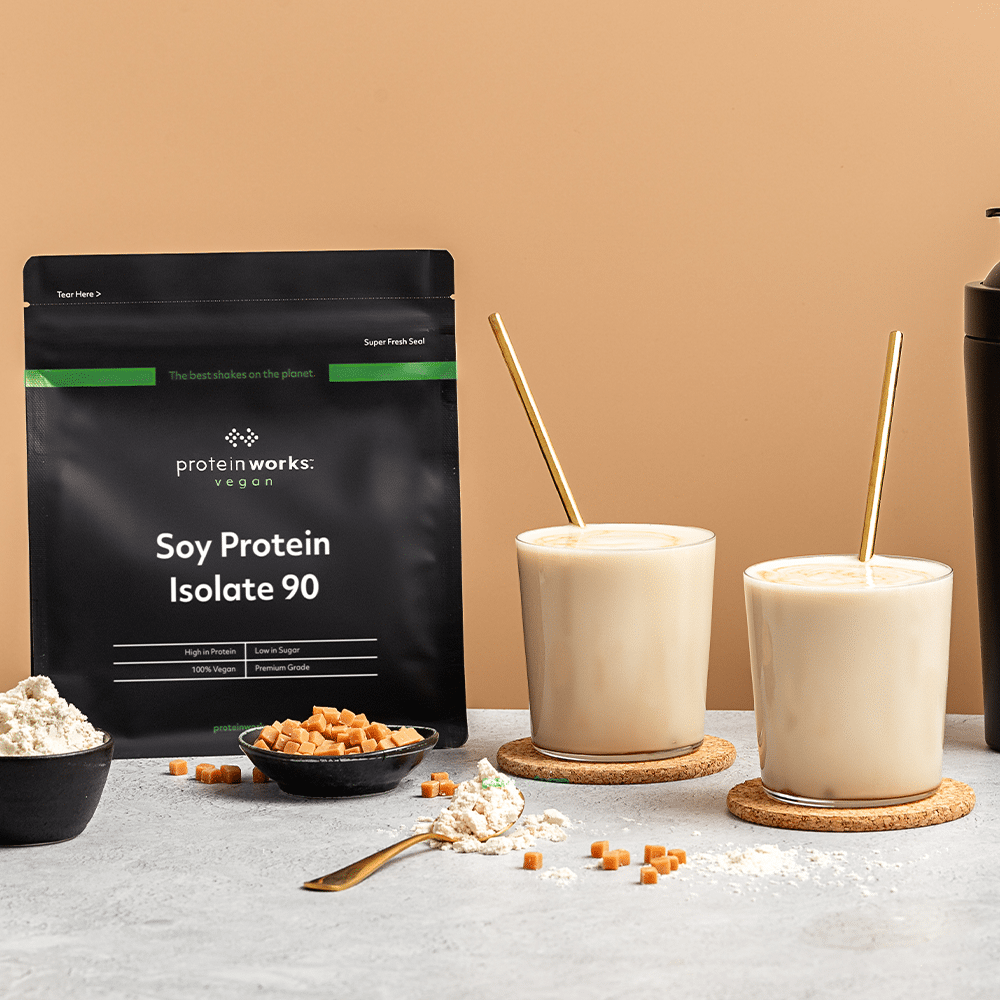 Who Is Soy Protein Isolate Powder Suitable For?
Even though it has primarily designed with vegans and vegetarians in mind, Soy Protein Isolate 90 is suitable for everyone. If you're looking for a high protein, low carbohydrate, and delicious tasting 100% plant based protein shake, then Soy Protein Isolate 90 is an excellent choice. Its low carbohydrate and low fat profile make it ideal for those on a calorie controlled wanting to lose body weight and improve their overall body composition.
*Disclaimer: Customer reviews are independent and based on personal experience. Individual results may vary. Products designed to be taken in conjunction with a balanced diet and training plan. Nutritional Information per serving based on Unflavoured.
Vegan Protein is made by our specialist nutritionists specifically for those looking for a delicious plant-based protein alternative. Our best-selling vegan protein shake offers an earth-friendly, zero cruelty option, whilst still using only the finest pure ingredients. Unlike other plant-based shakes, Vegan Protein contains FIVE different protein sources – Soy, Pean, Pumpkin, Brown Rice and Sunflower. This gives our shakes a more rounded amino acid profile.
It also contains no added sugar, is low in fat and has a whooping 25g of plant-based protein goodness per serving. It is dairy-free, lactose-free, gluten free, wheat free and is available in a range of delicious flavours.
Please Note: flavour imagery is only a serving suggestion and for illustration purposes. It does not represent actual flavour ingredients.