With only the best sources of vegan protein and 29g of protein per serving - this vegan shake is a powerhouse.

Not only have we infused it with a vitamin and mineral blend to further enhance the benefits of this shake. It's sweetened to ensure this is the purest vegan protein shake you can buy.

With amazing flavours exclusive to this range - you'd be silly not to try it.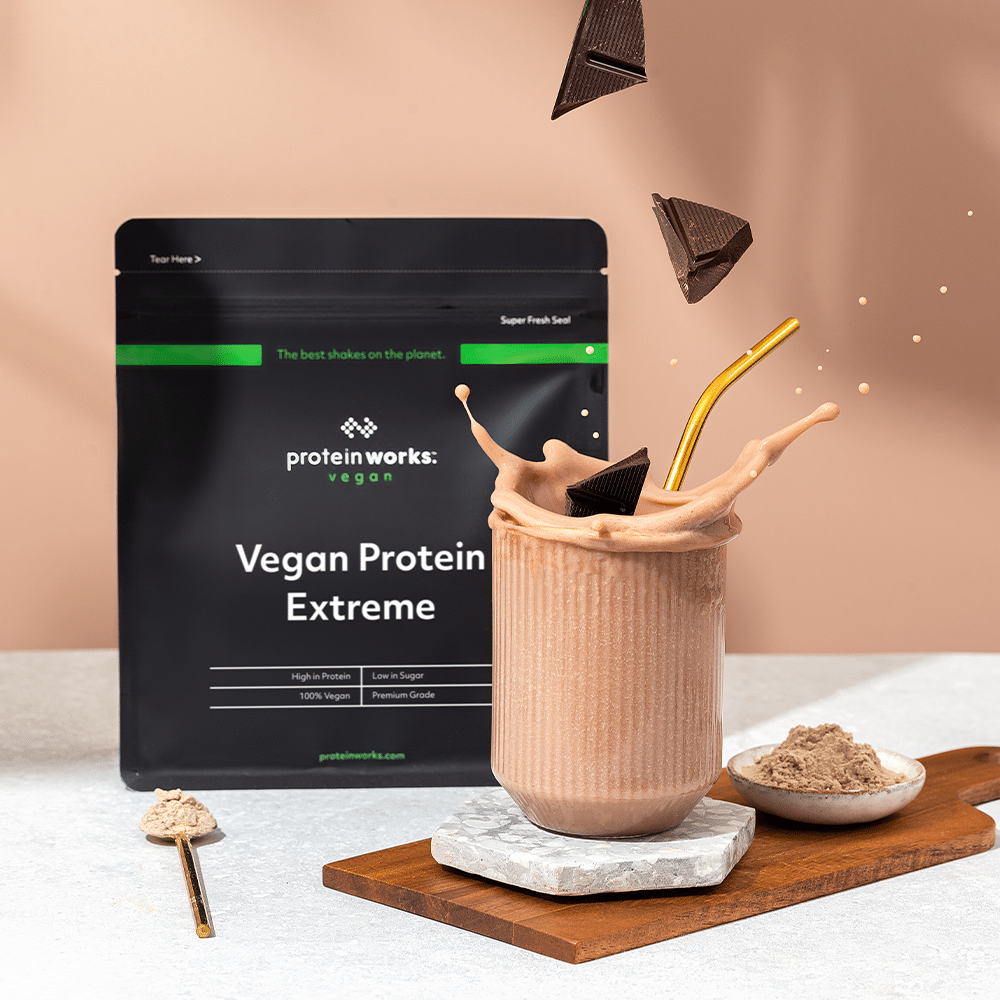 Why Buy Vegan Protein Extreme?
Premium Multi-Source Protein Blend

Added Vitamins and Minerals

High Protein Low Sugar

Superior Quality

Huge Flavour Range
What Is Vegan Protein Extreme?
Our Vegan Protein made a name for itself as the smoothest most pure Vegan shake on the market today… you know us though, we don't believe in stopping there. That's why we wanted to move the needle again, and here we are…
Vegan Extreme packs more protein, vitamins, minerals and healthy fats into one shake than almost any other protein powder available today. "Woah! Bold claim!" You might be thinking. "Yes, it is" we always confidently reply. This is because take one look at the 29g of pure protein per serving and the unrivalled ingredients list and you will see it's nutritionally unrivalled. Not just because of the pure vegan philosophy that's been strictly adhered to when making every blend that leaves Protein Works , but also because of the way it harnesses the power of Soy Protein Isolate, Pea Protein, Pumpkin Protein, Brown Rice Protein and Sunflower Protein and then fuses it with a blend of Golden Flaxseed and a nutritionally-engineered vitamin and mineral blend.
By the way, if you're still not convinced on Vegan Protein Extreme, why not check out Vegan Wondershake, the ultimate in vegan protein shakes. It's unique smooth texture and delicious dairy taste, have made it an instant best-seller and top rated product at Protein Works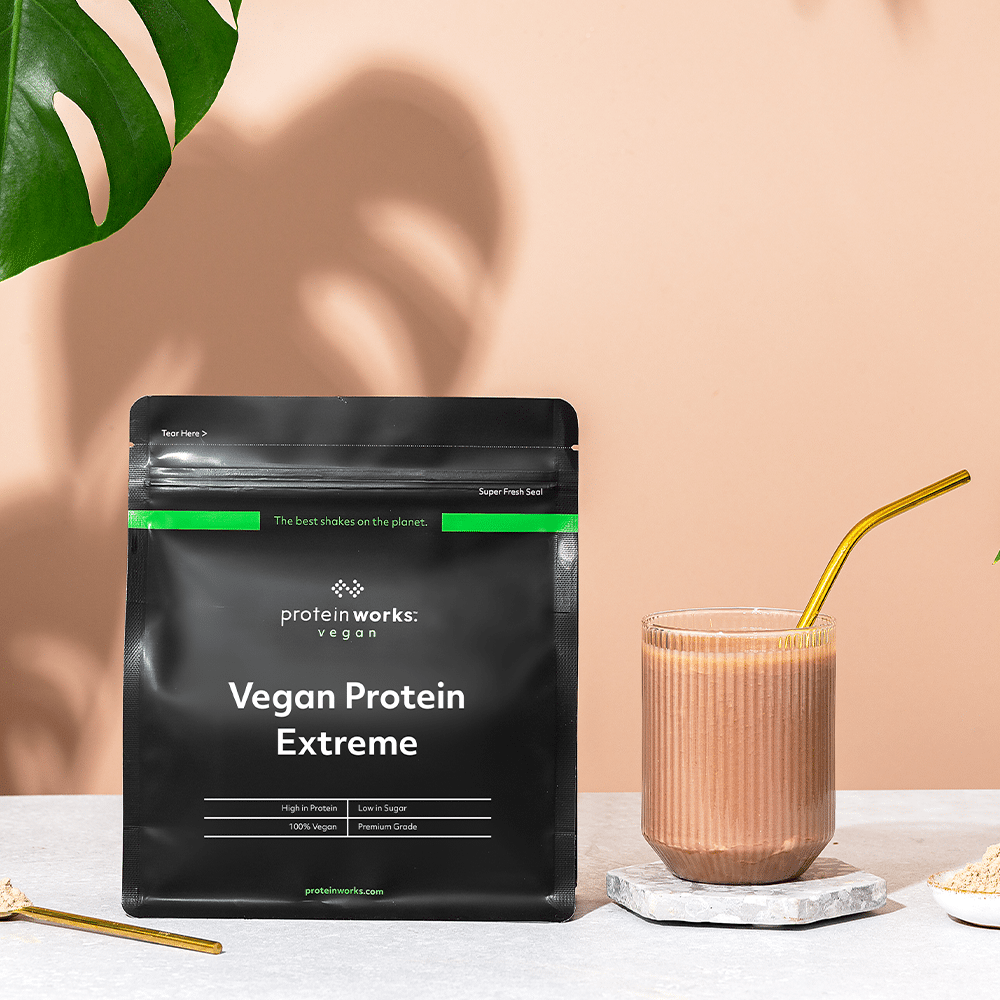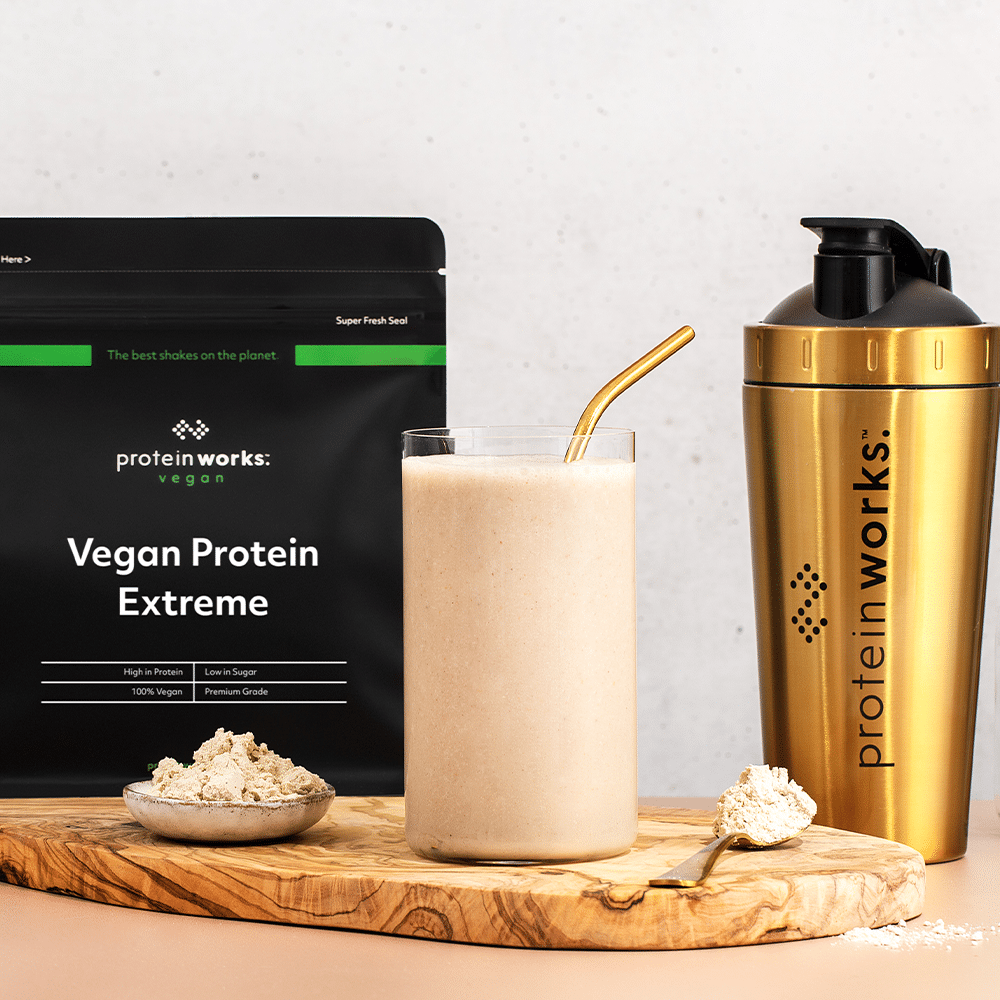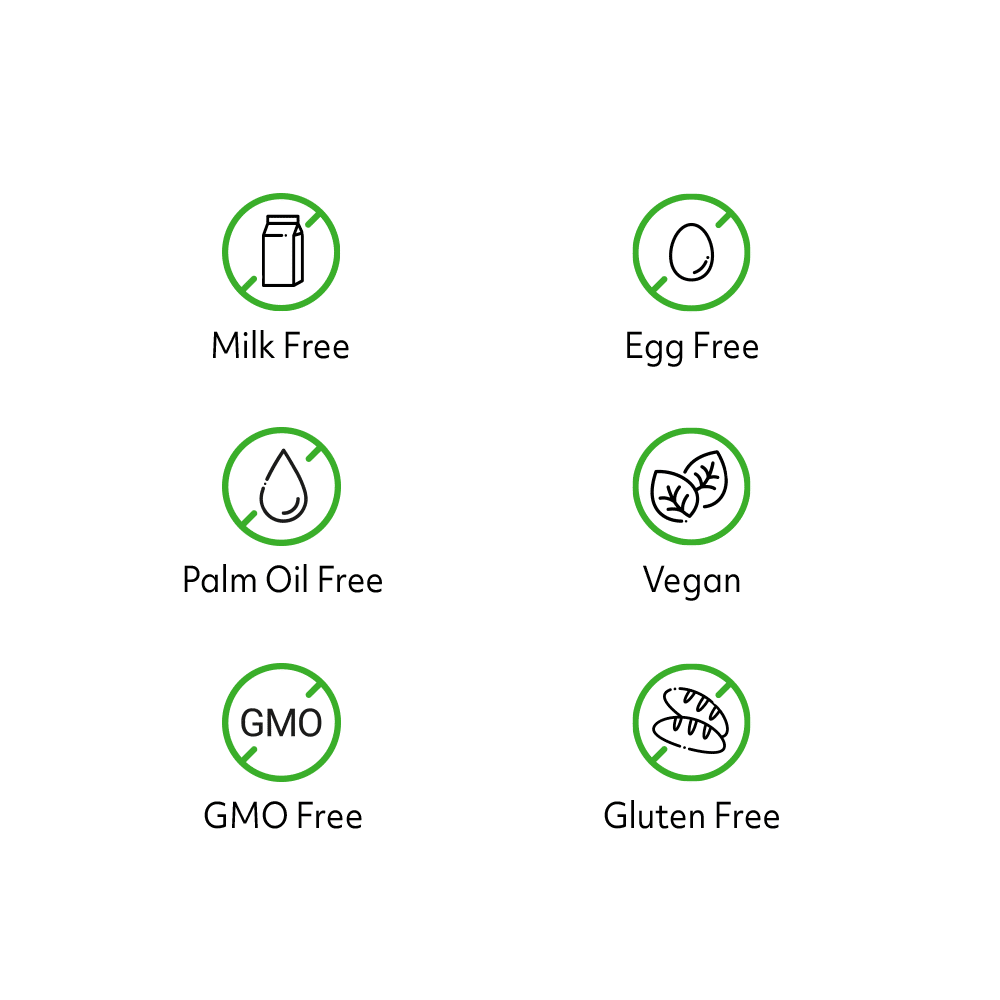 What Makes Vegan Protein Extreme So Good?
What does that mean for you? Well, when we said its more than a shake we meant it, this masterpiece is primed with more plant based power in every scoop than we think the world is ready for! But that's the Protein Works Ninjas for you, like the philosophy of this new innovation, they took the engineering on this one to the extreme, so you'll be hard pressed to find anything comparable out there and you certainly won't be searching for anything that blends better, or tickles those taste buds in the same way!.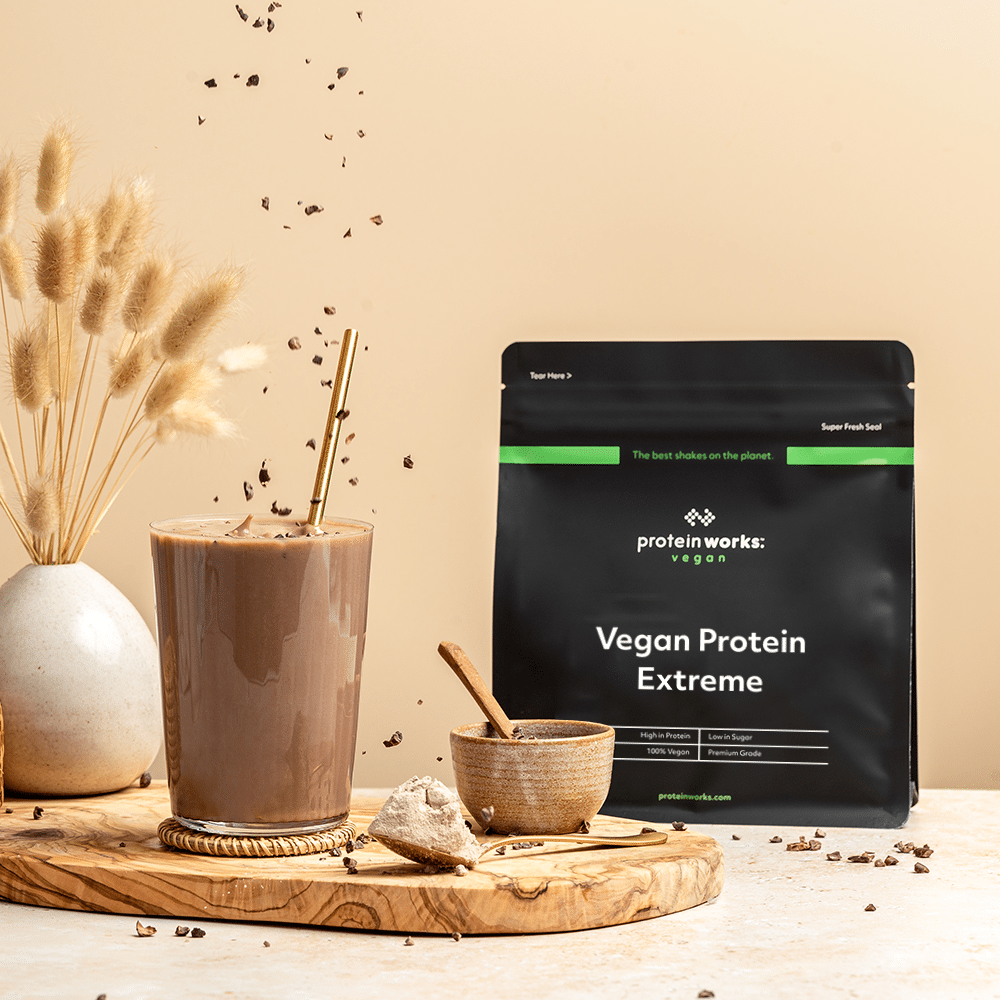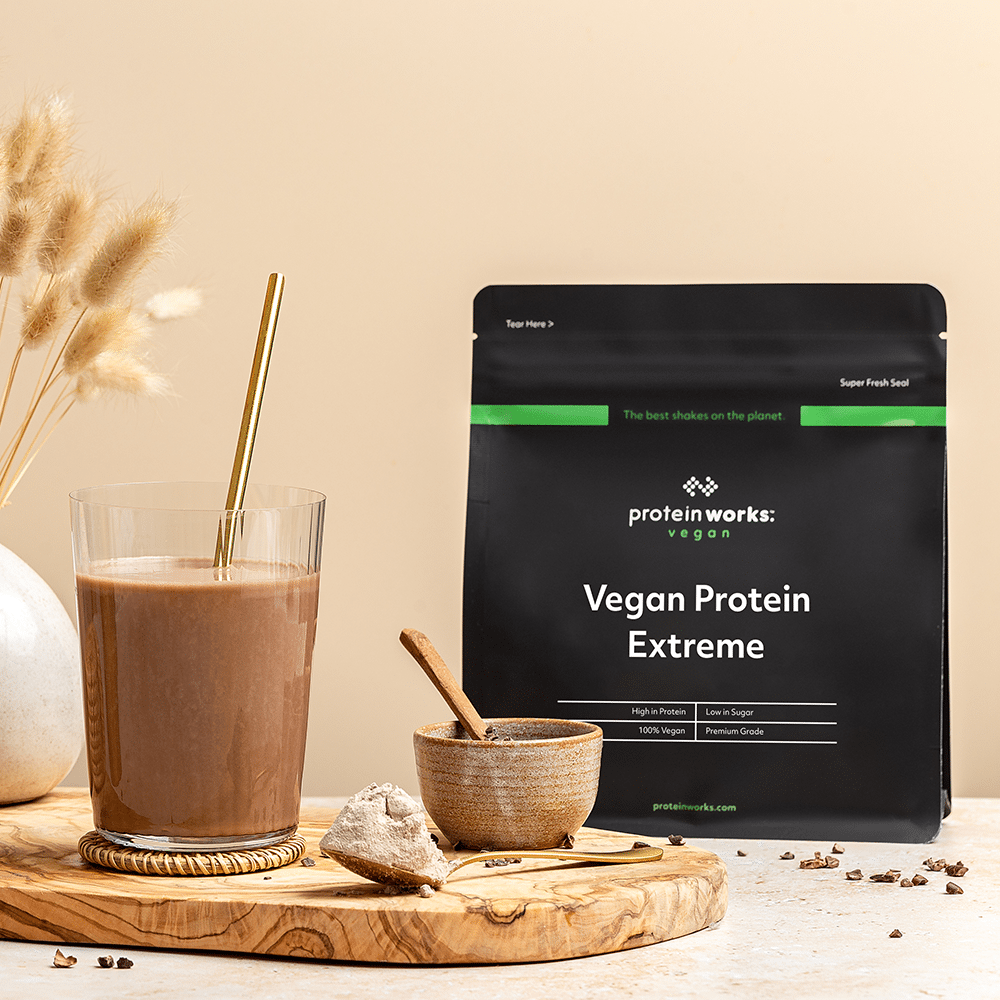 When is the best time to have Vegan Protein Extreme?
The honest answer is Vegan Protein Extreme can (and often should) be taken anytime, any day, anywhere. This is because a quality, plant-based protein powder could be the best supplement for a vegan athlete to have in their kitchen cupboard and gym bag, because with meat and animal products excluded from the diet, a premium-grade, vegan-friendly protein shake becomes invaluable to meeting their elevated protein requirements. How elevated? Well, according to the often-quoted Complete Guide to Sports Nutrition, it states the International Olympic Committee Consensus on Sports Nutrition recommends strength and speed athletes consume 1.7g of protein per kg of body weight. Therefore, based on this recommendation, if you're an 80kg vegan athlete you need 136g of protein per day. Divide this between five meals throughout the day means you need 27.2g of protein roughly every two to three hours.
Nutritional Nuggets
Each and every Vegan Protein Extreme shake that leaves Protein Works is made from a uniquely formulated blend of premium plant-based proteins. What this means is the contents of every Vegan Extreme pouch that leaves HQ is dairy-free, vegan-friendly, fused with our widely acclaimed flavours and colours and contains all the essential amino acids your body requires.
Packed full of complete vegan proteins
Comprehensive vitamin and mineral blend
Low in sugar
Made using 100% premium flavors & colours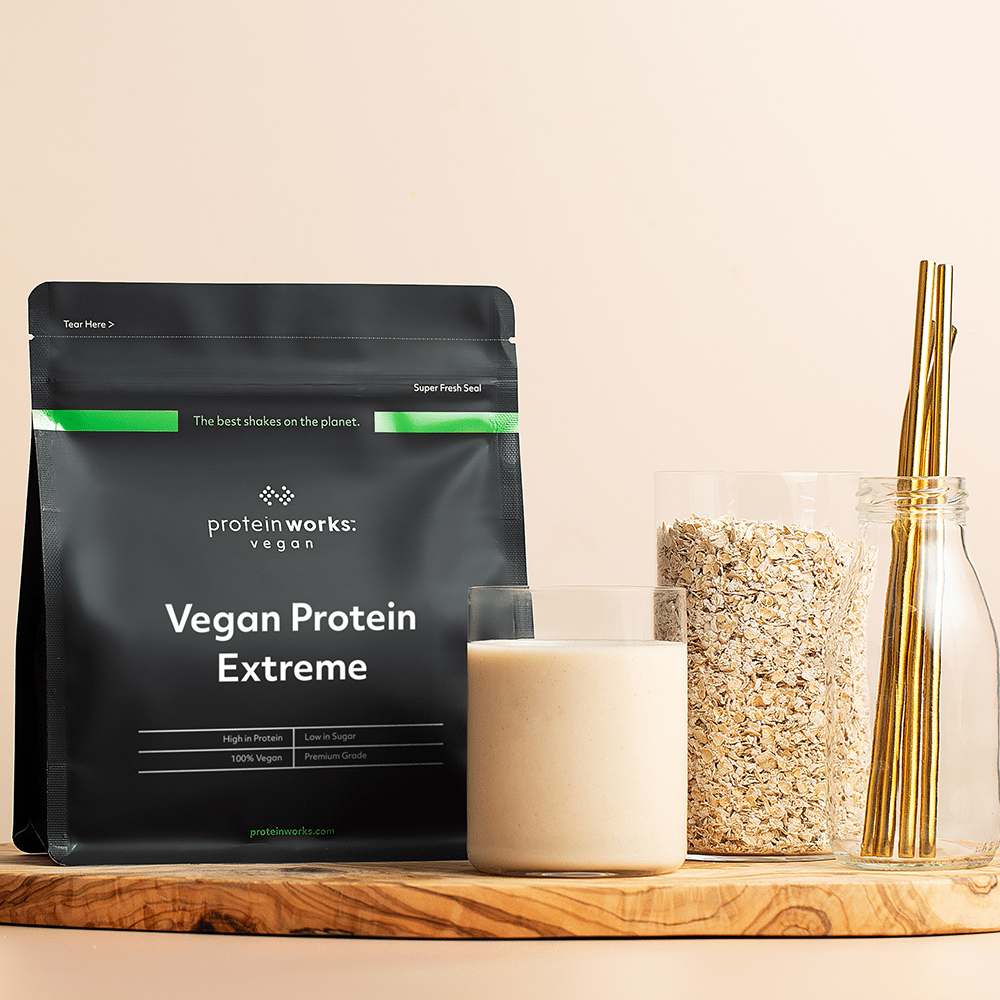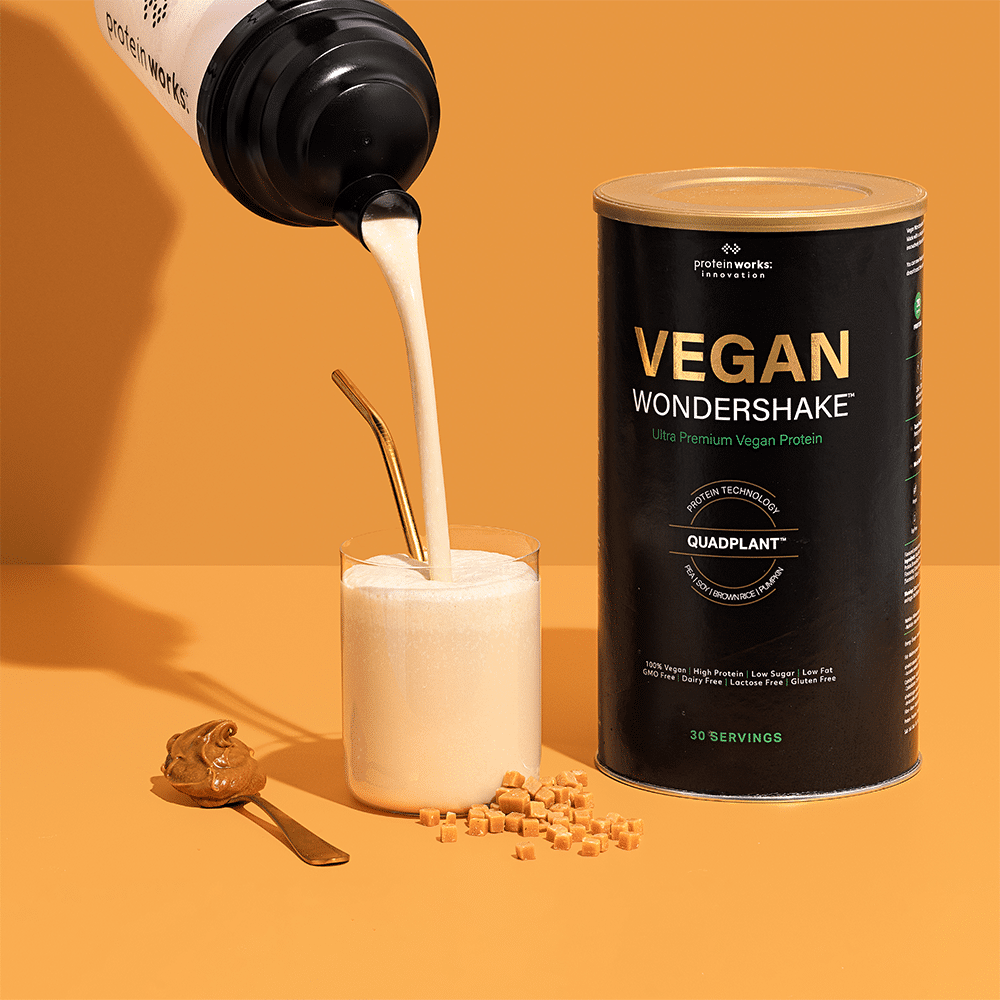 Vegan Wondershake™ is our award-winning 100% plant-based protein shake made using Quadplant Technology™ to deliver a delicious vegan protein shake that tastes like no other.
Available in a wide range of flavours, it combines several types of protein sources: premium pea protein, brown rice protein, pumpkin protein, and soy protein.
Vegan Wondershake™ is high in protein, low in sugar and low in fat, as well as being GMO free, dairy free, lactose free and gluten free. And most importantly, it's 100% vegan, helping you further minimise your impact on the planet, without ever compromising on taste.
Please Note: flavour imagery is only a serving suggestion and for illustration purposes. It does not represent actual flavour ingredients.