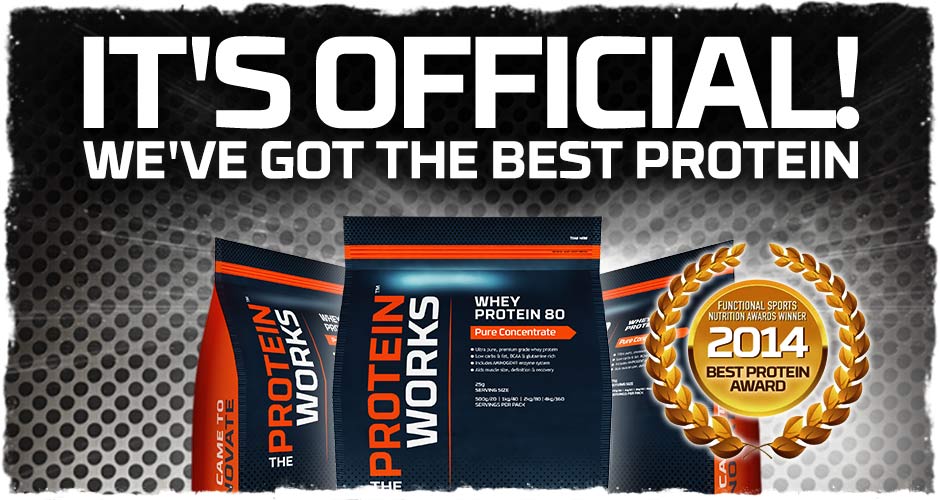 Best Protein -
Whey Protein 80
Here at TPW™ Towers, we're exceptionally proud of our best-selling protein, Whey Protein 80. We're all too aware there are brands out there today that make claims without substance and try to compare their products to ours. It's great to see a key voice in the sports nutrition industry today crowning our protein the "Best Protein Of The Year" in Functional Sports Nutrition Magazine's highly coveted industry product awards.
What makes this award so special is that it comes from probably the most widely read publication by sports nutrition experts and the wider industry. Up against the best in the industry, Whey Protein 80 beat all competition to take its place as the undisputed best protein powder in the UK today.Whey Protein 80 take a bow!

What Makes
Whey Protein 80

The Best

Whey Protein 80 from THE PROTEIN WORKS™ has an incredibly high biological value (BV), an amino-dense formula and an incredible level of purity. Our unparalleled levels of quality and manufacturing deliver the very best results and set it apart in the world of sports nutrition.
Exclusively source only premium grade whey protein
Finest whey means no need for thickeners or fillers
Engineered with all natural, great tasting flavours
Formulated with patented Aminogen® technology
The ultimate assurance - the industry's only Lifetime Guarantee
Voted "Best Protein Product" on the market
And finally, do the 'Spoon Test'
A true sign of a whey protein's quality is in how easy it mixes and how little it froths. We're so confident in the premium quality and absolute purity of our Whey Protein 80, we urge you to test it for yourself! Simply add a scoop to some water and stir it with a spoon. No vigorous shaking. See how well it mixes and compare it to anything else on the market, even products with two or three times the price tag. Buy the best, and buy it direct, from the undisputed home of protein.