Filter Paleo Protein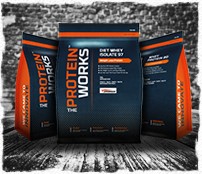 Protein is a greatly valued macronutrient for anyone who follows Paleo dieting principles. Obviously extremely strict Paleo advocates will get most of their protein sources from animal protein and not want to include whey protein their diets or supplement routine. But for those are not so strictly bound by Paleo doctrine this particular section of product range can prove invaluable.
Containing premium-grade sources of hemp protein, egg protein and of course our widely-acclaimed Paleo Protein, this part of the website is a paleo follower's haven. It means that Paleo athletes (like Crossfitters) can continue to meet their elevated protein requirements whilst at the same time adhering to the nutritional philosophies of our ancestors.
TPW™'s Paleo Protein range also works in perfect harmony with the nut butters and other healthy fats we stock at TPW™ Towers. Specifically our coconut oil is renowned for being the purest in sports nutrition and you won't find a smoother tasting, better value 1kg of peanut butter and almond butter anywhere else.
Finally, as more and more people awaken to the infinite benefits of Paleo nutrition we as a brand want to ensure we can continually cater for their needs. So in an effort to stay 'ahead of the curve' in sports nutrition we say the doors to the TPW™ Lab are always open. If you have an idea, product suggestion or just want to chat Paleo nutrition join the TPW™ on social media and let us know.
Raw Vegan Protein is a unique blend of 5 premium plant proteins, making it the definitive dairy-free, vegan-friendly protein shake. Low in fat and sugar and packing more than 25g of protein per serving, It is ideal for those looking for a premium non-dairy protein source.

Diet Vegan Protein combines the very finest natural vegan protein sources and widely acclaimed extracts, such as Green Tea and Garcinia Cambogia, in one delicious shake. Sourced from premium grade plant proteins, it is ideal for anyone following a vegan calorie-controlled diet. Diet Vegan Protein provides 22g of protein, 1g of fat, and 0.3g of sugar per serving and is available in a range of natural flavours.

Vegan Super Blend completely reinvents protein shakes for the active vegan. Combining the purest vegan ingredients in the TPW™ product portfolio, each shake is made by taking 3 of the world's best plant proteins and blending them with ancient grains, spirulina and sweet potato powder.