Filter Protein Balls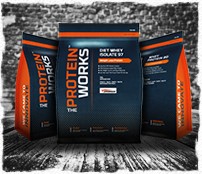 What Are Protein Balls?
Protein Balls are spherical protein snacks of nutritional awesomeness. They can take the form of Protein Truffles or Protein Nutties™ but each one is made with our award-winning whey protein and made using our all natural flavours and colours.
At TPW™ Towers our protein snacks come in all different shapes and sizes. Our protein bars are perfectly cut using artisan baking methods. Our protein popcorn is lovingly prepped and packed. Lastly, our vegan snacks are made under strict and ethical guidelines. But among the plethora of food-based formats, it's the shape of our perfectly round protein balls we are most proud of.
Protein Nutties™ are a unique nutty protein snack, fresh out of the TPW™ Protein Bakery right here in the UK. They are made with 100% natural nut butters and the finest whey proteins and are packed full of healthy mono and unsaturated fats.

Diet Protein Truffles™ are hand-crafted using our award-winning premium whey protein to a highly formulated in-house recipe. This includes infusing the protein blend with microencapsulated CLA, acetyl L-carnitine and fat-reduced cocoa powder to create a great tasting snack.