Why you love it...
"I grab my meals on the go during the day which I know isnt great but such is life. I dont eat great and so I tried switching to this. Love the flavours and keeps me feeling full. I chose this one as I defo need the vitamin boost " - Lauren
Why we love it...
Vitamin Protein is a super nutrient dense, high protein shake for anyone with an active lifestyle. Vitamin Protein is high in Omega 3 and packed full of premium whey protein and fibre. With under 3g of fat and only 109 calories in every shake, it ticks all the nutritional boxes. Vitamin Protein comes as a convenient 30 day plan and if you order now you'll receive our 30 Day Mini Fitness Guide worth €19.99 ABSOLUTELY FREE!
40% OFF! - *SPECIAL OFFER!*
CODE: BONUS40
Top Picks
Vitamin Packed Protein Shake
Vitamin Protein is designed to provide you with an incredible vitamin boost as part of your daily protein shake. Our nutritionists have packed Vitamin Protein full of vitamins, minerals and omega 3. This turns our award-winning premium grade whey protein into a supercharged protein shake.
Ideal for anyone with a busy life and consuming their meals on the go, Vitamin Protein can help supplement your daily nutrition. Made with 100% natural ingredients and natural flavours, you can rest assured that you're giving your body the ultimate TLC.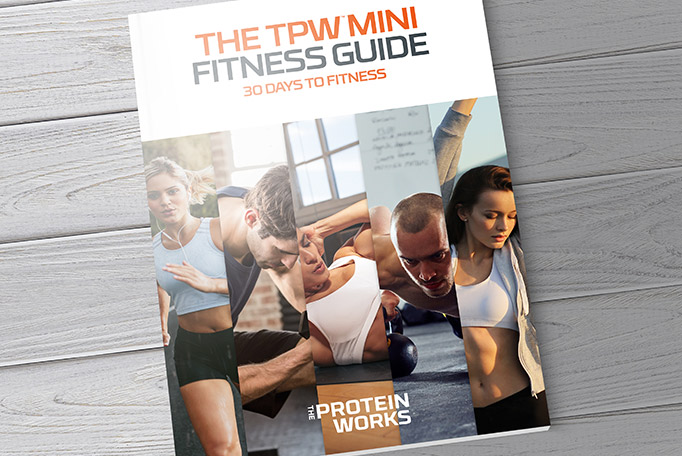 FREE 30 DAY MINI FITNESS GUIDE
With every Active Collection protein shake purchase, we're giving away our 30 Day Mini Fitness Guide ABSOLUTELY FREE! This unique guide worth £19.99 is designed to help you reach your goals and support you through your Vitamin Protein Plan including recipes, training plans, step by step guides and much more. Click the button below to read more about the guide.
Our Vitamin Protein is a convenient 30 day plan giving you a high quality source of protein plus a vitamin boost, perfect for anyone with a hectic lifestyle. Our 30 day plan consists of one shake per day, six days a week. Vitamin Protein can be taken any time of day, but with it's high protein content, it is ideal to consume immediately after any physical exercise or first thing in the morning to give you a morning boost of goodness.
INSANE TASTING NATURAL FLAVOURS
In a world of average tasting protein shakes where taste is either based on artificial flavours or hidden nasties or both, we stand alone. We're not number one rated and multiple award-winning for nothing. All our protein shakes are made with only natural flavours and the finest protein sourced from within the EU.
Vitamin Protein comes in a range of ultra smooth, epic flavours that we guarantee will keep you craving for more. Chocolate Silk has smooth, rich cacao tones combined with super silky and indulgent textures to create the perfect chocolate shake. Strawberries 'n' Cream is your classic summer fruity favourite infused with creamy textures to deliver an awesome strawberry milkshake.
What is Protein and Why is it Good for You?
Protein is responsible for maintaining, repairing and building muscles in the body. It is one of the three macronutrients and is a very important factor in any healthy diet.
There are many different types of protein in your body, all of which are made up of amino acids. Every day, our bodies require 20 different types of specific amino acids, which is why we need to ensure that we supply our bodies daily with sufficient amounts of good quality protein. In our 30 day plan, Vitamin Protein is taken once daily, six days a week to ensure you are replenishing your protein stores without the additional calories or fat!
Additional Information
| | |
| --- | --- |
| Values based on: | No |
| Energy (kJ) | 1520 | 456 |
| Energy (kcal) | 363 | 109 |
| Fat (g) | 7.4 | 2.2 |
| of which Saturates (g) | 4.0 | 1.2 |
| Carbohydrates (g) | 14.3 | 4.3 |
| of which Sugars (g) | 13.2 | 4.0 |
| Fibre (g) | 14.3 | 4.3 |
| Protein (g) | 52.6 | 15.8 |
| Salt (g) | 0.55 | 0.16 |
| Cholesterol (mg) | No |
| Sodium (mg) | No |
| Calcium (mg) | No |
| Please Note: | No |
Ingredients
Serving Size: 25g (one large 70ml scoop) of Vitamin Protein
Our 30 day plan is based on 1 shake per day, 5 days a week.
Add 200ml of water or milk into your TPW™ Master Blender. Add one large grey scoop (30g) of Vitamin Protein, mix well and drink.
The less liquid you use, the thicker your shake will be, so adjust to suit your own taste.
Daily Usage Ideas for Vitaminy Protein During 30 Day Plan :
1 serving upon waking
1 serving 30-45 mins prior to exercise
1 serving immediately after exercise
1 serving between meals
1 serving before bed
Q. When should I take Vitamin Protein?
A. Our 30 day plan is based on 1 shake per day, 6 days a week. We recommend having one shake post workout or whenever hunger strikes to keep cravings at bay.
Q. Is all whey the same, regardless of which brand it is?
A. As a customer, we believe it is not only your right to demand the best, but also that you know you're getting the best. It is very true to say that not all proteins are created equal! Here at the protein, we are committed to high quality and transparency, so we give you all the information you need from your products.
Q. Is Vitamin Protein Suitable for vegetarians?
A. Yes, Skinny Protein is suitable for vegetarians but not vegans.
Q. Can I take Skinny Protein with other supplements?
A. Yes of course, although Vitamin Protein is a specific 30 day plan, why not try it with one of our awesome bakery snacks.